Listen here, there is a serious epidemic of misunderstandings, miscommunications, lies, facades, and confusion. See what humans are accustomed to is protecting. Protecting themselves from pain, and only searching for pleasure, love, and approval, and most times it is all from the wrong people or things. Obviously things cannot provide what it is the human spirit desperately needs and survives with, but the confusion and misunderstandings stem from an everlasting attempt to gather "things" that momentarily fulfill the sensation of satisfaction. Then what? Unhappiness occurs. A feeling of being unsettled, lost, or an incredible amount of questions arise out of wonder. Wondering what is in store? What should I do? Where should I be? And with whom? Confusion is nothing more than an emotion caused by not wanting to make a decision, although, you truly do know the right answer. Confusion plies its hands into lives when your question has been answered, but it calls for a change, and you resist. Change is not an easy task, it is a transition to be better, and do better.

The lying to oneself about your own heart, and feelings is such a discouragement to yourself. Never sitting and being with yourself is killing oneself slowly, and literally causes such a disconnection to what matters. If I had a penny for every time someone called someone a friend that seriously did not even come close to the definition of a friend, or when someone says I love you when they really do not mean it. Forget pennies, how about a grain of dirt for every time I notice people being concerned with something that does not matter at all to the essence of who they are. Whether it be buying a new car, focusing on the appearance of another, speaking about their homes, and items that they have obtained over the years because of the financial status they obtained, I could literally make my own piece of land and use the pennies to pay for a new home. The point is, none of it is essential to your well being. Blessings they are, but treat them as such. My grandmother always tells me, it is hard for a rich man to go to heaven, not impossible, but hard. When you are rich you focus on the surface. The depths of anything is what matters; what cannot be seen, but felt. Being on both sides of the spectrum of life and understanding has helped me to understand the aspect of living humbly.

My greatest wish is for everyone to be honest with themselves about everything. How many real friends do you have? The others that are not, why are they in your life? What matters to you? What makes you truly happy, and are you happy now? Like for real?? If you were stuck on this planet and could only choose three people to be with, who would they be? And would those three people choose you as well? Just a thought, and when it is all said and done, misunderstandings, miscommunication, lies, facades, and confusion are present because the light of truth is not being released in its entirety. What a thought??!!



Powered by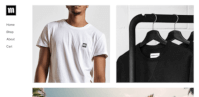 Create your own unique website with customizable templates.