How many times have you heard love does not hurt? Love is kind? Love is happiness?
We've heard it all before, right? Or what about love is a choice? I have innately buried my own ideals on love in hopes of preventing myself from experiencing what I believe love to be. As long as I can remember the most important aspect of life has been love, to me. To love another has been such a major focus of mine, to make sure those around me are able to comprehend and most importantly feel the love I am forever offering. They say what you give, you get. It took awhile as the conditions of loving had to be picked apart in various situations and experiences. So young, yet so seasoned when it comes to seeing the best in others. The aptitude of feeling such things has ensured this very moment of my choosing love. To choose to love is my current ideal. It has sustained its strength in the moments I recall life itself. The automatic approach of choosing to be love has catered to my seeing love in all things. As I choose, love chooses me, it is nothing more than the reflection of what is. What I feel internally, individually, is exactly what the world presents to me in physical form. I know what it feels like...

I know what it is to be recognized for who you truly are, and only because I recognize the truth in others. Such a blessing!

I'm just grateful to have heard it all before...
Powered by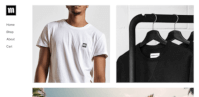 Create your own unique website with customizable templates.