I've always believed humans have a tendency to easily judge others, and point out their flaws, but to recognize the flaws in themselves, and to dig deep into ones own grief, truth, and personal issues is an aspect that is perfectly avoided. Bravely, Oprah's Lifeclass on OWN gives viewers a short, but well worth it, one hour window to allow themselves to peer into the windows of what may not be seen, but what is felt instead. It is for those that have always had questions, the desire to be better, and the courage to be confronted with the truth to heal. Oprah's Lifeclass gives viewers the opportunity to see past the surface. It gives people permission to feel, rather than rely purely on visuals. Presented to the audience by Ms. Winfrey in a relatable manner, lessons like, 'Forgiveness,' 'You are responsible for your OWN life,'and 'Find your calling,' are teachings that can possibly thrust anyone into the life they are meant to live; if they are able to get it.

After the broadcast of Lifeclass on The Oprah Winfrey Network there is a live webcast of Oprah's Lifeclass available on oprah.com, and Facebook, with special guests; one being the enlightened teacher, Iyanla Vanzant. On Friday, while lounging on the couch in my most comfortable black sweats, a red T-shirt, and my laptop companion, I watched Oprah's live Lifeclass webcast. Unexpectedly, I had my own a-ha moment. As I heard a woman speaking of her less than ideal relationship with her father, Iyanla summed up the woman's struggle by stating that you cannot change the past, but being able to acknowledge the fact that God has a plan for you; maybe the type of relationship you have with your father is exactly what is needed in order for you to be the person you are meant to be. That struck me. Immediately I clicked on the Want to Skype with Oprah now? link. My own relationship with my father flashed before me. I recognized the relation, and wanted to share it. When my father passed, something within me shifted. I began to live through his death. Before, I was a robotic individual with no purpose, no drive. That indeed was God's plan. At the time it made no sense to me. I fought the purpose, and relished in the pain for a while, only to then realize the plan was for me to reconnect to myself, and to others. My purpose was determined. I am present to be the vessel of connection.


Oprah's Lifeclass can be seen Monday-Friday at 8/7c on OWN. It can change your life, if you are willing.

In the meantime watch Friday's live webcast
http://www.oprah.com/own_tv/lc_webcast2.html



---

The choices, and decisions we have to make on a daily basis can sometimes fall into the extremely intense category. i'm the type of person that would rather avoid having to make difficult decisions any day. It seems so much easier to ease your way through life. Sure you may not have any excitement or interesting things happen, but at least you are in a constant state of just being...comfortable. I told a friend of mine not too long ago that I may have to move soon. I miss the feeling of the unknown. The feeling of not knowing exact details and directions. There is something enticing about going to a new place, and being open to just going. It is fun to not feel too comfortable. Lately though I've been looking into the choices I have made; some not so good. Even when I knew I should have done one thing, I do the "wrong" thing. Why is that?? Is it because we want to cause a stir in our lives? Is it because we want to get "the lesson" loud and clear so we are left with absolutely not one doubt, or is it because we are simply stubborn and want to feel in-control in the moment only to lose control in the next moment? Either way, decisions are mini tests for ourselves. What level are you ready to be on? What do you really want to do with your life? The choices we make will surely determine our future., so choose wisely.
Powered by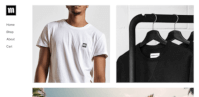 Create your own unique website with customizable templates.