Everyone questions what we each really want when it comes to love. We all have an idea on what would be best for us, but love comes in a form that may not always be immediately identifiable to you. Sometimes it presses you to open your heart, and soul. Other times you are struck by a strange feeling, one that may not be wanted; it is resisted. It is what makes the world worth living in. Love is what keeps each of us alive. It is the energy force that causes us to do things we are not accustomed to. It is what we fight for. Love is...it comes, it goes only if you push it. Allowing yourself to be loved is an act of courage, and pure strength. It may leave you feeling vulnerable, but why is that so bad??

My love is what I want others to feel. My desire is for my love, my voice, and my passion to stretch across this planet so far that every single human being is touched, and reminded what their own purpose is. Love is what drives. It is what conquers. Love is...



I know I have been known to procrastinate. My excuse is normally...I am waiting for the right feeling. Now as I am in the process of taking a great risk, I understand that my procrastination stems from a fear of failure. I believe our egos are unsure about failure. The ego wants you to have it altogether all the time. In real life, that is just not possible. The thing is, failure is what we call it when things do not go as planned. It is when the outcome is viewed as not favorable. Yet, and still there is a lesson to be learned which means nothing should be considered a failure. It is a calling for change...follow it...please do not fear it. As I write this I am listening to my own advice.


Powered by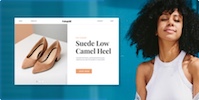 Create your own unique website with customizable templates.