I'm so sensitive to life, to love, to people's energy. I want the best for everyone. I see the best in everyone even when they cannot see it in themselves. I want everyone to have the love and care that they need to the point that they are so satisfied by their hearts hurt, and hearts comeback that they appreciate and feel that they have experienced their life more than they ever thought they could. I have a job in which I have the chance to connect and converse with so many different type of people. I take the time to understand that everyone is present to have an impact on your life in a great way. You just have to notice it.

I am saddened by the death of a woman that showed me that you cannot judge a person by their appearance. You cannot know who someone is simply by looking at them. I think she was just a reminder. She was who she was. Settled in her space, loving, complicated, opinionated, and wise.

She saw me and most importantly I saw her. At first we missed one another, my belief is it all happened because we each had our initial judgements about each other. Then one day, we noticed one another truly. We took the time to speak, and look into each other's eyes and that is when it happened. At that point we began to talk, she trusted me, and whether it makes sense to others or not I loved her because I saw her heart, and her soul. I saw her pain, joys, and questions and that is why we are all here...to see one another.

Florence, I will never forget you. I will not forget your voice, nor forget you telling me, " Tamika, I really look forward to seeing you."


You changed me...and I don't even think you tried.


With love,


In memory of Florence Banta


My deepest condolences to her family and friends...
Powered by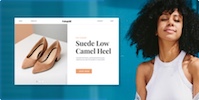 Create your own unique website with customizable templates.